Way back in 2010 I published the Top 10 Things To Do In Belize. Since then a lot has changed, and it's time to update the list! So, without further ado:
The Top 10 Romantic Things To Do In Belize – Part 2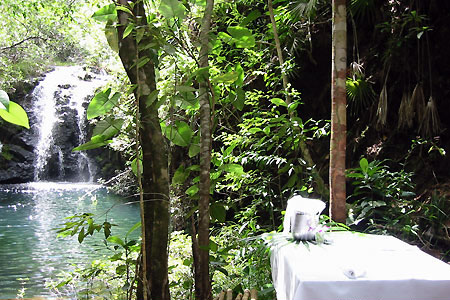 10. Private Water Fall For The Day: Making it's second appearance on my Top 10 List, renting a private water fall is still one of the most romantic things you can do in Belize – or on earth, I dare say. You and your 'other half' will be have an enchanting waterfall in the jungle all to yourselves. This uber romantic day also includes lunch and a bottle of wine. The waterfall flows into a swimming hole before continuing on it's way, and feel free to swim as free as can be in the water – you're all alone. The private waterfall rents for only $175 usd per day and lies on the property of a spectacular boutique resort.
9. Private Boat and Beach BBQ: Not only is the Private Boat day a "must do" for romantic travelers, it's a must for anyone coming to San Pedro, Belize. For just a couple hundred dollars more than snorkeling with a large group tour, you get your own private 28′ boat with Captain and Guide. The boat has a rinse off shower and an on board toilet, so you can freshen up after an unparalleled day of snorkeling the worlds largest living barrier reef. It's your boat, so if you see a turtle and want to swim, off you go! After a day of cocktails and lounging on your boat, your captain will take you to a special spot for a romantic beach bbq for two. He'll prepare the fish he's caught for you while you enjoy each other. Romance, pure romance.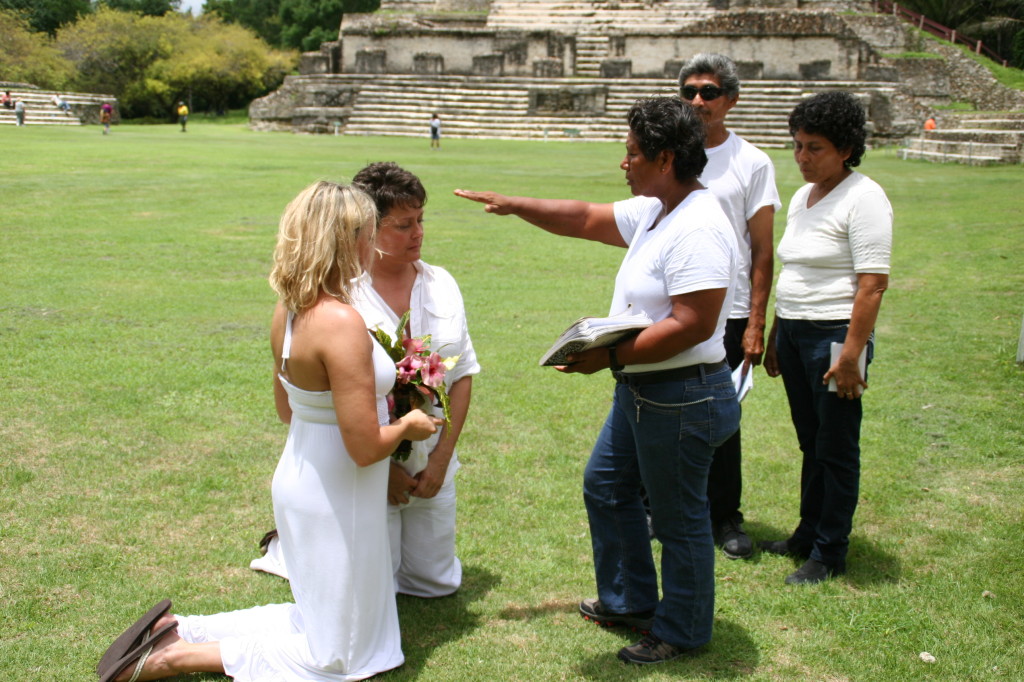 8. Blessed Be!: Have your union blessed by a Mayan Shaman. The spiritual blessing ceremony is a lovely ceremony honoring and in keeping with the ancient Mayan way. The Shaman is a bush medicine woman whose lineage is pure Mayan, and she is the descendant of one of the greatest Mayan Medicine Men. The blessing can be done at a Mayan Temple (Ruins), by a waterfall, or wherever you would like.
7. Mud Massage: The setting is pure art. Literally. The owner of this funky resort is an artist who has hand created all the structures in their spa. In a private decadent cabana, the couple will enjoy a "Mood Mud Massage" and then rinse in the sulfur spring bath.
6. Sunset Cruise: San Pedro Town, Ambergris Caye faces due East. Fantastic for sunrises, not so great for sunsets. The best way to see the sunset is from a boat, more specifically, a Catamaran; the sails of which will catch the wind and you'll glide soundlessly along to the southern end of the Island. Once there, the sea meets the sky and if you look closely, you just might catch the elusive "Green Flash". With cocktails flowing and the breeze blowing as the sunset lights the sky with a thousand shades of pink, you'll understand why this is on my list of incredibly Romantic Things To Do
5. Butler Service is Sexy: If you are staying in San Pedro and if budget allows, you can take a day trip to a private island. A super exclusive, VIP, mega-watt-stars-stay-there Private Island. Insiders know that you can rent one of the 12 cabana's for a private day of luxury. Your over-the-water cabana is served by 2 butlers and a private chef. There is something quite sexy about all that pampering, service and luxury. If a full day isn't in the budget, insiders can get you a table for 2 for a private dinner instead. Just a little taste is still an effective aphrodisiac!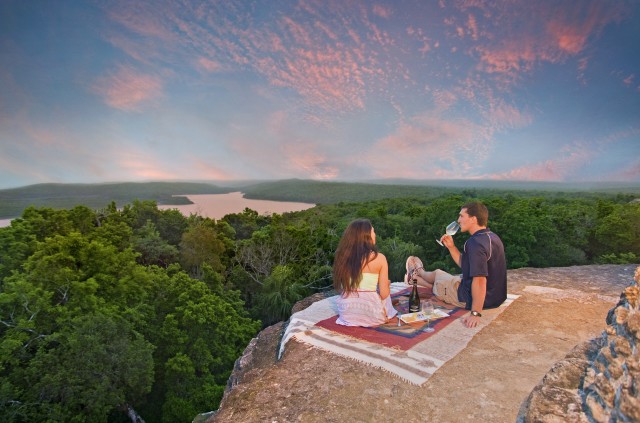 4. Mayan Ruin Dinner: Those staying in the western part of Belize (Cayo District) will be able to enjoy a very unique romantic experience. No where else in the world is this experience possible. You will enjoy a private gourmet dinner for 2 on top of a Mayan Temple. See the world in a whole new way – literally.
3. Here Kitty, Kitty: When we are excited, thrilled, or anxious our brains secrete chemicals. Those chemicals are very closely interpreted as arousal. What better way to turn yourself and your partner on than with a little Big Cat Fear? While maybe not the most traditionally romantic experience, getting into a cage with a full grown Jaguar is bound to get your heart pumping. For a $50 usd donation, The Belize Zoo will treat you to their famous "Jaguar Encounter". Basically, you get in a 5′ x 6′ x 6′ cage, and either Junior Buddy or Lucky Boy (our beloved rescue jaguars) will climb around your cage as you feed it chicken. Thrilling only begins to describe this awesome experience.
2. Secluded Photoshoot: For a lot less than you'd think, you can get a set of phenomenal photos. Rolling around in the sand or playing Tarzan in the jungle while a photographer is shooting is liberating for a lot of people. Whether you do a themed shoot (dying to produce a Bonnie & Clyde with a Golf Cart) or just something natural and relaxed in your hotel room, all that attention and focus on each other is sure to get the embers sparked for a little romance. While the photographer won't be present 'for the good stuff' how much fun will it be to have the photo's to remind you of the special day.
1. Donate Your Time: Nothing helps a person get more grounded and 'real' than spending time helping others. While Belize is a mecca for all things naturally stunning, we are also the home of some folks with very real needs. Whether you spend some time with Special Needs Kids at Camp Starfish, walk a homeless dog at the SAGA Humane Society, or help put water filtration in the San Mateo area – or any of the hundreds of other worthy causes in Belize – you will be helping your own soul at the same time. What better way to "reconnect" to the one you love the most than to spread that love to others? Spending such truly quality time together is one of the most romantic things you can do, don't you agree?
Posted on August 8, 2014